VISTABOOKS
Across the Plains in the Donner Party--
a personal narrative of the overland trip to California, 1846-47

Across the Plains in the Donner Party: a personal narrative of the overland trip to California, 1846-47
by Virginia Reed Murphy.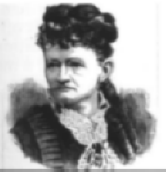 Virginia was 12 years old when her family left Springfield, Illinois to trek across the plains to California, their intended new home, along with 25 fellow emigrants. Along the way, her grandmother died, her pony had to be left, her family lost their oxen and had to abandon a wagon with their possessions, her stepfather killed a man and was banished from the train, and then she and her group were trapped in snows at the eastern foot of the Sierra Nevada crest at and near what is now Donner Lake and Truckee, California. As a result, 13 of those who started with her in Springfield, and 29 more who joined her along the way, never did cross those mountains. Here is the little girl's story, written by her later as an adult, now a part of the American epic of winning the West.
Reprinted from Century Magazine with illustrations added from Frederic Remington and others. 64 pages.
ISBN: 978-0-89646-099-7. Order #: VIST0099 paper$7.95
Sample illustrations from Across the Plains in the Donner Party:
This "VistaBooks: Across the Plains in the Donner Party" page was last modified May 26, 2020. Did you come here from a link on another website? For latest version of this page, click or copy to your browser: http://www.vistabooks.com/vistpubs099.htm.Copyright © 2020VistaBooks LLC.