VISTABOOKS

Ranch Life in the Far West
by Theodore Rossevelt with illustrations by Frederic Remington and others
to Western Americana page
to Frederic Remington page
to National Parks page
to VistaBooks Home/Contents
Ranch Life in the Far West
by Theodore Roosevelt.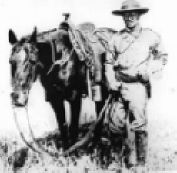 After being president, Roosevelt stated "I would not have been president had it not been for my experience in North Dakota" And so here are his experiences, as he wrote about them, of cattle, ranching, sheriff's work, hunting game, and frontier types. Tales of round-ups, breaking broncos, and arresting thieves are included, as well as the harshness of the winters on his Elkhorn Ranch, much of which is now in the Theodore Roosevelt National Memorial Park. Foreword is by park naturalist Gerard T. Altoff. Reprinted from 1888 and 1893.
Illustrated primarily with engravings done by Frederic Remington for the original publication. 96 large-format pages.
ISBN-10: 0-89646-034-7. ISBN-13: 978-0-89646-034-8. Order #: VIST0034 paper$9.95
Sample illustrations from Ranch Life in the Far West:
to Western Americana page
to Frederic Remington page
to National Parks page
to VistaBooks Home/Contents
---
This "VistaBooks: Ranch Life in the Far West" page was last modified October 9, 2021. Did you come here from a link on another website? For latest version of this page, click or copy to your browser: https://www.vistabooks.com/Titles/vistpubs0034.html. Copyright © 2021 VistaBooks LLC.